September 2008 - Kitesurf magazine The Netherlands

Sept 2008, Kitesurf magazine the Netherlands, reports extensively about Ilha do Guajirú, Brazil's hottest kitespot.
To read, download or print the article, please click on the image herewith shown. Here, you will find all information and news in Dutch about the island, it's facilities and activities, as well as detailed information about the 3 wavespots and the island's huge, Main Lagoon.
Kitesurf Magazine is Holland's number 1 kitesurf magazine, issued 6x per year. The magazine features show travelling, spot info, tips 4 tricks, tests, technical articles, super nice gallery's and not to forget big interviews with not only kitesurf superstars but also your local hero or weekend warrior. Check out the website  through this link http://www.extremesportsmagazines.nl/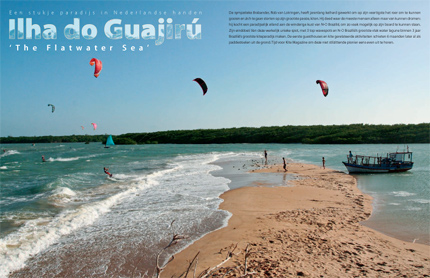 Kitesurf Magazine is Holland's number 1 kitesurf magazine, issued 6x per year. The magazine features show travelling, spot info, tips 4 tricks, tests, technical articles, super nice gallery's and not to forget big interviews with not only kitesurf superstars but also your local hero or weekend warrior. Check out the website  through this link http://www.extremesportsmagazines.nl/