"Discovering Ilha do Guajirú" by Jeremie Tronet online!



Downloadable HD version of Discovering Ilha do Guaijrú is available!
Use the right mouse button (for Mac users: CTRL + left-mouse) and then choose "save target as..." on this link: download HD version.
August 1st 2009, Jeremie Tronet's long waited movie "DISCOVERING  ILHA DO GUAJIRÚ" finally came out!

Kite- and windsurfers couldn't wait to see it's this promising movie: many rumours were circulating that this movie terminates in one smash all questions on this new spot!

Available on this island's Official Tourist site, www.ilha-do-guajiru.com aka www.theflatwatersea.com, for viewing in normal resolution or High Definition (HD) for free!

But also the dvd will be distributed through various european magazines and watersports shops.
During December 2008, Jeremie Tronet & (Jane) Linn SvendsEn, staying at the Windvillage Waterfront Bungalows, Garden & Spa, spend a whole month at the island, working on this brandnew movie of Ilha do Guajirú!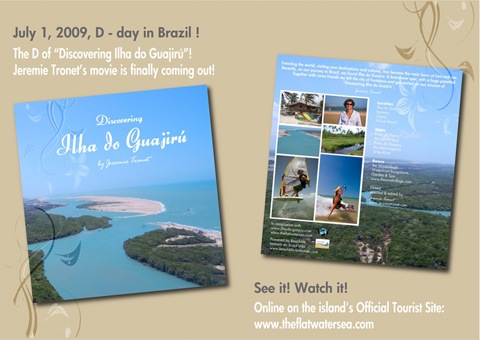 Jeremie and Linn are really professionals on what they do: they have been recording and editing the world's best travel story and watersport movies sofar.